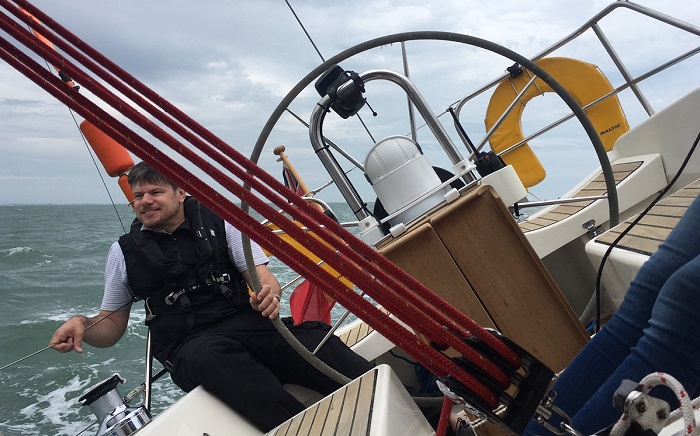 Whilst out cycling in December 2015, I was knocked off my bike by a motorist who failed to see me as he pulled out onto a roundabout. My right ankle was crushed in the accident, and I was rushed to the Royal Sussex Hospital in Brighton, where I underwent a series of operations to save my foot and ankle. The NHS team performed nothing short of a miracle and were able to save my foot, but with metal rods supporting my leg it was very clear that things would never really get back to normal.
At this point a friend suggested that I spoke to Paul Fretwell and the team at George Ide LLP Solicitors, who stepped in to help manage my claim and assisted me through a very challenging period in my life. The team's experience with this type of injury, their considered approach and meticulous attention to detail enabled them to flag up any potential issues early on; and ensured there were no surprises along the way.
With very limited ankle movement, significant pain and knowing that further operations would also be required in the coming years we faced the very real decision of whether a lower leg amputation would be preferable. This would have certainly provided a quicker and less painful recovery, but as a keen sailor, I was very concerned about my ability to move about the boat safely with a prosthetic leg and this ultimately swayed my decision.
In the early stages. Paul negotiated with the insurance company and secured the interim payments necessary to keep things moving; to cover the usual claim items such as securing specialist orthopaedic treatment, custom footwear and exercise equipment to help build up my leg strength again.
However, he and this team also took the time to understand the full impact of the injury on my life and hobbies. They were able to see beyond the conventional claim headings and to look at the things that were unique to me, this included purchasing a mobility scooter to allow me to walk our dog and, more importantly for my own sanity, it enabled me to be able to get out of the house every day. They also recognised the long-term impact on sailing with my family and helped to secure funding for a series of modifications to our yacht to allow us to continue to sail it safely, without me needing to leave the safety of the cockpit.
I have now had a successful ankle fusion and whilst it's not completely pain free, with all the measures we have put in place, my family and I are still able to sail and carry on doing all the things we enjoyed together, albeit at a slightly slower pace.
I remain extremely positive and feel extremely lucky to have recovered as well as I have. The outcome could have been considerably worse, however with the benefit of the right specialist advice at every stage we were able to ensure the best possible recovery.
Three years on, we went into a Joint Settlement Meeting with a robust and well-prepared case, allowing us to secure an excellent outcome. I would not have a moment's hesitation in recommending Paul Fretwell and the team at George Ide LLP to anyone in a similar situation.
Richard Serna
Contact Our Friendly Legal Experts Today
For general enquiries or to discuss more specific needs in personal or commercial law please get in touch with a friendly member of our team today.